The Liver Flush Diet
This is a 5-day detox diet that starts the process of flushing out poisonous substances and accumulated waste from the gall bladder and the liver. Take a look at what an unhealthy liver looks like on the picture. What does your liver look like? A liver detox is extremely important.
It is like doing a simple 5-day diet with the advantages of a liver cleanse. Besides making you loose  some water weight, this diet will detoxify your body, making you regain energy and vitality.
The Liver Flush Diet
From SUNDAY AM (breakfast) through FRIDAY PM (lunch):
Eat a light, healthy diet that consist principally of fruits and vegetables for the whole duration of this diet. Each day, drink 64 ounces of pure water AND at least 1 quart of apple juice or apple cider  (organic if possible).  This much apple will help soften that sludge that accumulates in the gall bladder.  The function of the gall bladder is to convert fats. When waste matter accumulates, the gall bladder will not do its job, causing gas, GI tract discomfort, bloating, heartburns, etc.
Avoid fried and fatty foods. No French fries or fast foods.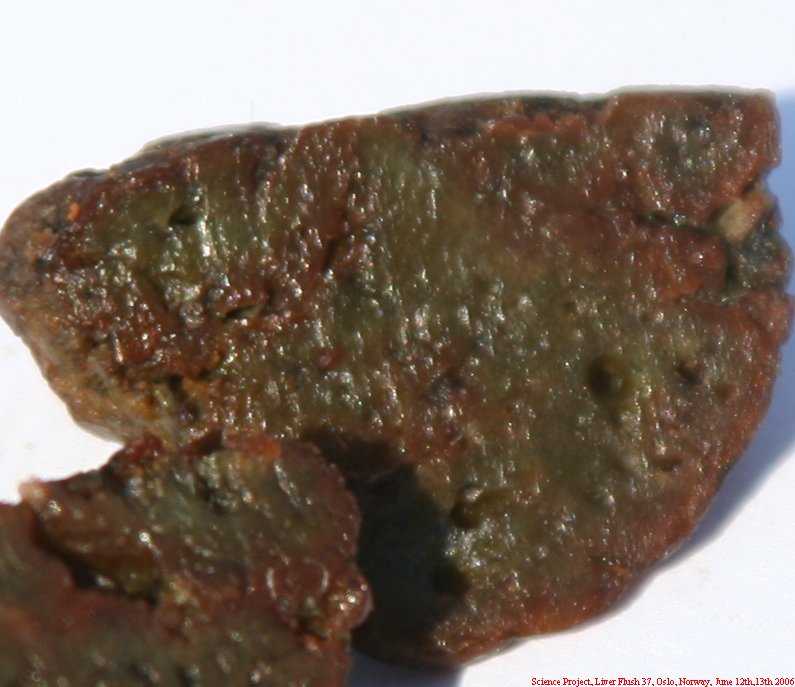 Friday PM – 3 hours after lunch:
Drink 1 ounce of hot water in which you dissolve 3 teaspoons of disodium phosphate or Epsom salts.  It is very salty so you can chase that down with grapefruit juice. For the rest of the day, do not eat nothing else.
Friday PM – a hours later
Have again the disodium phosphate/Epsom salts drink.  Drink much water.  This very salty drink is efficient to make sure sludge and bile pass through without getting stuck anywhere by clearing a pathway.  Drink also grapefruit or lemon juice. It will help to alkalinize the body (a temporarily acidic condition in the body may occur while detoxifying and this will balance that effect).  If you cannot drink citrus fruits, rather drink a glass of water with a half teaspoon of baking soda into in. You can also find alkalinizing products at a health food store, like Glyco-Thymoline.
Friday PM – before going to bed
Drink a mix of a half cup of unrefined olive oil with a grapefruit juice or a little lemon.  If this makes you feel queasy have a few sips of Coke to settle your stomach.
In bed lie on your right side and pull up your right knee to your chest for 30 minutes.  This will help the stomach process the oils so that the gall bladder will be prepared to receive them.
After 30 minutes, put your leg down. You may then feel the gall bladder having a little tension squirt of bile through it.
Saturday AM – as you get up
Drink 2  ounces of hot water in whcih you dissolve 2 teaspoons of Epsom salts  and add a bit of lemon or grapefruit juice.  Do not eat nothing for 2 hours.  This will get the sludge out what was released from the gall bladder last night.